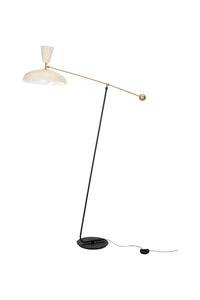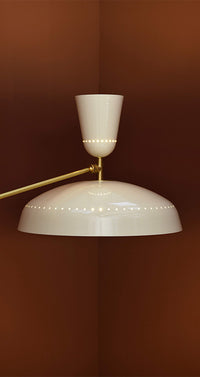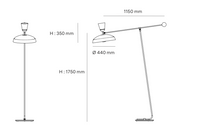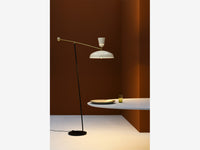 Pierre Guariche by Sammode G1 Floor Lamp - Chalk
Pierre Guariche by Sammode G1 Large Floor Lamp in Chalk.  Designed by one of France's most important designers, Pierre Guariche, this original design is part of a selection of luminaires reissued for contemporary... Read more
Pierre Guariche by Sammode G1 Large Floor Lamp in Chalk. 
Designed by one of France's most important designers, Pierre Guariche, this original design is part of a selection of luminaires reissued for contemporary spaces by Sammode.
This magisterial and timeless floor lamp was designed by Pierre Guariche in 1951 and is a style that has come to symbolise the luminaries created by this designer. Featuring an embossed metal lampshade and two light sources to provide direct and indirect lighting. Perfectly balanced by its solid brass counterweight, the brass arm also test the limits of gravity.  
Manufactured and assembled in Châtillon-sur-Saône in the Vosges region of France.
Made to Order: please allow 16-18 weeks.
Please reach out to confirm available stock on hand for immediate dispatch.
___
About the Designer:
Designer and Interior Architect Pierre Guariche was one of the most prolific luminaire designers of the 1950s. The designer invented an enormous variety of solutions to lighting structures: the cantilever, the pivoting and tilting arm, spherical counterweights to name a few. In his designs, there is no gratuitous stylistic excess or purposeless detail, whether technical or functional.
Pierre Guariche introduced the codes of a radical aesthetic. On the one hand, purity of line and totally original forms. On the other, an innovative technical dimension and a real intelligence in the use of materials, especially metal.
As a designer and manufacturer, Sammode brings to this new collection the full weight of its industrial expertise in luminaire production, and particularly lighting suitability and a deep-rooted knowledge of metalworking.
Materials: Brushed and varnished Brass, lacquered Aluminium.

Dimensions: 175cm H x 115cm W / Shade 35cm H x 44cm ø


Recommended for indoor use only.
We use a number of specialist logistics partners to ensure the careful handling and safe delivery of our furniture, fragile and bulky items.

Please provide your postcode when you contact us for a shipping quote.

Shipping rates do not include import duty which will be county-specific. Please check your country's customs rates before purchasing. There are some destinations that we are unable to ship this item to.