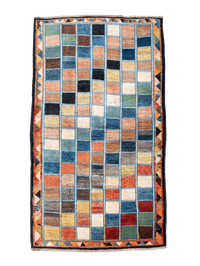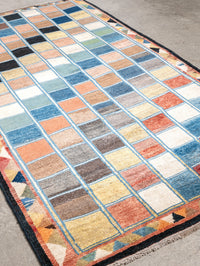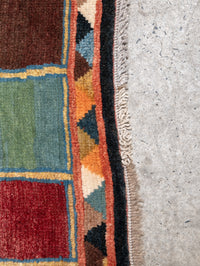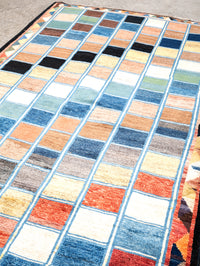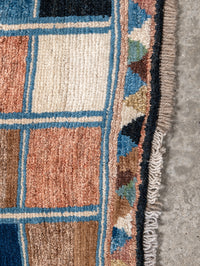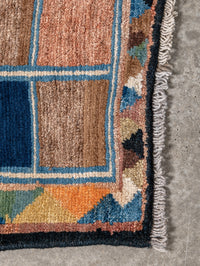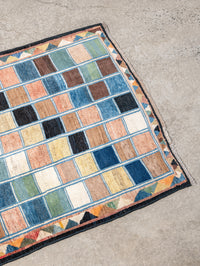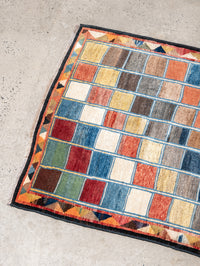 Lou's Tune Gabbeh
Gabbeh rugs, emerging from the depths of the Zagros Mountains in Persia, were a modernity before modern trends had been invented. Known for the simple, bold and abstract designs, the term 'Gabbeh' comes... Read more
Gabbeh rugs, emerging from the depths of the Zagros Mountains in Persia, were a modernity before modern trends had been invented. Known for the simple, bold and abstract designs, the term 'Gabbeh' comes from the Persian 'gava' - meaning raw, uncut or unclipped, reflecting the rugs primitive style and coarse weave. Gabbeh rugs have a thick, longer pile and with a looser knot than the classic Persian carpets.
Hundreds of years ago, nomads of old Persia worked their myths and stories preserved over generations into the carpet artistry of Gabbeh rugs. Unlike like the commonly known floral Persian carpets, Gabbeh rugs themes stem from pre-islamic times and convey similarities to the works of expressionistic art from Europe.
Crafted with the intention to gift or beautify one's surroundings, each was made while travelling through the mountains and are inspired by nature and the artist's dreams. Each irregularity adds to the uniqueness and authenticity of the rug, where the true beauty lies in imperfection.
Circa, approx 1940
In partnership with ReForest Now, one tree is planted for every rug sold. Your purchase contributes to protecting, conserving, and regenerating Australia's precious and biodiverse rainforests. Find out more here.
Materials: Wool
Dimensions: 204cm x 113cm
Regularly vacuum without using an overly abrasive brush.

Any spills should be spot cleaned immediately.

Do not dry clean. Seek advice from a professional should deeper cleaning be required.

Regular rotation is recommended, as is periodically hanging out in the sun to air in a fresh breeze.
We offer FREE SHIPPING AUSTRALIA-WIDE for all rug purchases. We also deliver to most international destinations.

Orders will be shipped within 2-5 business days of placement of order through a courier service, depending on delivery location. Additional fees may be charged for alternate shipping services.

REST OF WORLD
Shipping will be calculated at checkout. Our shipping costs do not include import duty which will be county-specific. Please check your country's customs rates before purchasing.
Can't find what you're after?
We can source what you need.
Get in touch