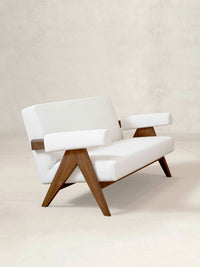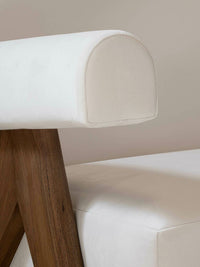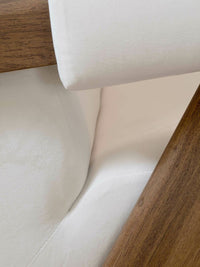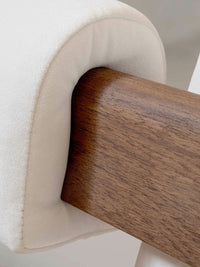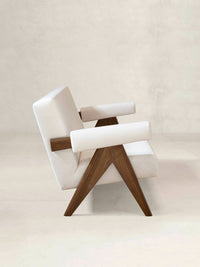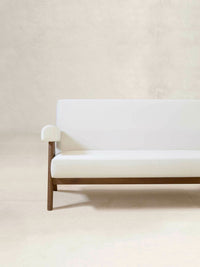 Upholstered Sofa, Velvet Upholstery
Made to Order: allow 16+ weeks lead time. The Upholstered Sofa is a re-edition of the two and a half seater model created for building lobbies in Chandigarh in the 1950s. This re-edition... Read more
Made to Order: allow 16+ weeks lead time.
The Upholstered Sofa is a re-edition of the two and a half seater model created for building lobbies in Chandigarh in the 1950s. This re-edition is true to the dimensions and external form of the original design, with improvements made to the structural elements and quality of materials to create a chair that is built to last. The external leg and arm frames are made of teak wood, while the inner frame is made of pinewood. High quality premium polyurethane foam in a carefully calibrated combination of densities is used to create the perfect ergonomic seating comfort. .
Upholstery in cotton velvet - samples available on request. *Note that photographed image velvet colour is not available. 

Made in India from reclaimed or ethically harvested timber and cane.
Tigmi is the only Australian distributor for the Phantom Hands 'Chandigarh' collection, awarded 'Best Re-Edition' in the 2023 Monocle Design Awards - celebrating design across the world, and honouring people and products that are enhancing lives.
Please get in touch and provide your postcode for a shipping quote as this is a heavy/fragile item that needs to be handled with care
Materials: Teak (Tectona Grandis), Upholstery

Finishes: Finishes: Natural teak finish / Dark Stain finish

Dimensions: 78cm H x 150cm W x 84cm D / Seat Height 42cm / Arm Height 63.5cm
Recommended for indoor use only.
We use a number of specialist logistics partners to ensure the careful handling and safe delivery of our furniture, fragile and bulky items.

Please provide your postcode when you contact us for a shipping quote.

Shipping rates do not include import duty which will be county-specific. Please check your country's customs rates before purchasing. There are some destinations that we are unable to ship this item to.