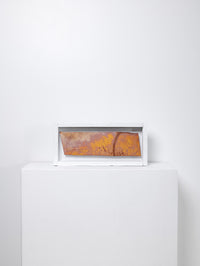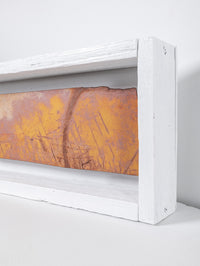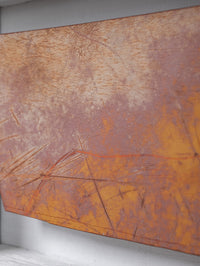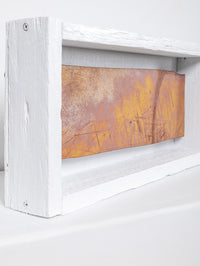 Saskia Folk Panel Work 10
10 24cm H x 51.5cm W x 7.5cm D Saskia Folk's 'Panel Work' series features panels of metal sourced from abandoned steel carcasses across thousands of square kilometres of desert in Australia -... Read more
10

24cm H x 51.5cm W x 7.5cm D
Saskia Folk's 'Panel Work' series features panels of metal sourced from abandoned steel carcasses across thousands of square kilometres of desert in Australia - from the Western Desert of Kiwirrkurra, Mt Ebenezer near Uluru, Woomera and Willington SA, and the old mining town of Broken Hill in NSW.
Saskia became fascinated by the colours, dents and fractures of the weather-beaten cars she came across on her journey working in the remote communities of Kintore and Kiwirrkurra in the Western Desert. Surprised to find vehicles from the 1950s, 60s, 70s and 80s, the cars that originally carried indigenous people across the desert were still there dotting the desert landscape and thus becoming an integral part of its history. The desert environment plays a unique hand in the process of deterioration, and once a panel is removed it takes on a new life.
Each panel sits floating in a hand-built frame crafted by Saskia from reclaimed hardwood.
Saskia Folk's 'Panel Work' is a part of our Local Makers Art Series featuring a catalogue of unseen work by local artists from Byron Bay.
Materials: Metal, reclaimed hardwood frame

Dimensions (framed): 24cm H x 51.5cm W x 7.5cm D
Orders will be shipped within 2-5 business days of placement of order through Australia Post standard shipping or a courier service, depending on item and delivery location.

Shipping rates are calculated for each carrier at checkout to determine the best rates in real-time.

Shipping rates do not include import duty which will be county-specific. Please check your country's customs rates before purchasing.
Can't find what you're after?
We can source what you need.
Get in touch