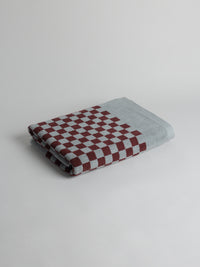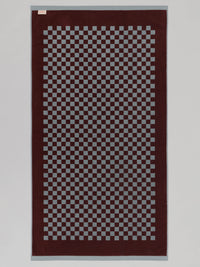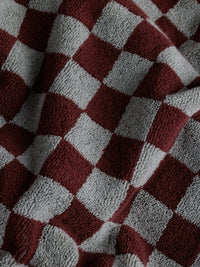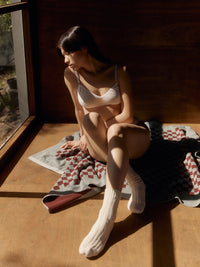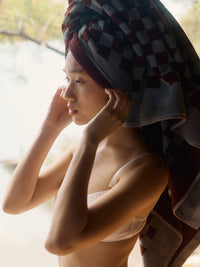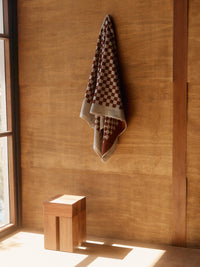 Roman Pool Towel in Cement & Rhus
100% Organic Cotton pool towel or bath sheet by BAINA. In an unexpected, yet elevated pairing, the Roman in Cement and Rhus takes inspiration from mineral tones and earthen hues. Crafted from 100% Organic... Read more
100% Organic Cotton pool towel or bath sheet by BAINA.
In an unexpected, yet elevated pairing, the Roman in Cement and Rhus takes inspiration from mineral tones and earthen hues. Crafted from 100% Organic Cotton, it features a reversible colour-way and brings richness, texture and dimension to the space in which it sits.

Size: 90cm x 170cm
100% Organic Cotton
Designed in the Antipodes
Thoughtfully produced in Portugal
600gsm for softness, absorbency and quick dry time
BAINA towelling has been designed with permanence in mind. By following our Care Guide, you can extend the longevity of your BAINA pieces, and minimise your impact on the environment.

WASHING
Before using any BAINA products, we recommend washing your towels through one cycle.

Wash towels through a cold or low temperature cycle (40 degrees).

Use natural detergent to protect the integrity of the towel and avoid using softeners or oxidising/chlorine based bleaching agents.

While softeners can create a soft feeling initially, over time they leave behind deposit that build up on the cotton's surface, creating a barrier that affects a towel's absorption.

Always wash light and dark colours separately to prevent colour transfer.

DRYING
Line dry in shade. For optimal softness we recommend a tumble dry on low heat. Do not dry clean.

To sustain an absorbent pile on your BAINA towel we recommend using a dryer* for a portion of the drying process as this will agitate the terry cloth, circulating air and loosening the pile. Towels quickly coarsen when solely line dried, particularly indoors where there is little air circulation.

*We understand many would prefer to avoid the use of dryers, this is only a suggestion if one's preference is to maintain optimal softness.

REPAIR
If a loop gets caught and snags, avoid pulling the thread as this may cause further damage. We recommend cutting the tread at the base of the towel.

STAINS
We advise caution when using any cosmetics or skincare as some products contain chemicals that may cause discolouration.

Try to treat any stains as soon as possible, and treat before laundering.

Shipping rates are calculated for each carrier at checkout to determine the best rates in real-time.

Orders will be shipped within 2-5 business days of placement of order through Australia Post standard shipping or a courier service, depending on item and delivery location.

International shipping is calculated in Australian dollars and does not include import duty which will be country-specific and based on delivery address. Please check your country's customs rates before purchasing. We are unable to ship some items internationally and to some destinations. We ship to most countries.
Can't find what you're after?
We can source what you need.
Get in touch