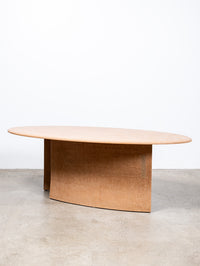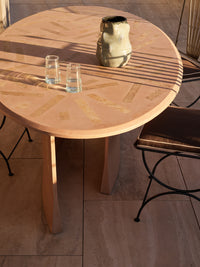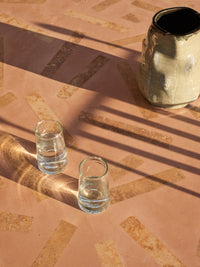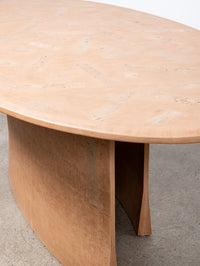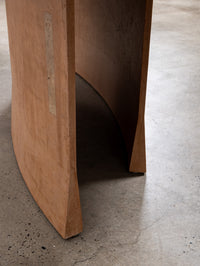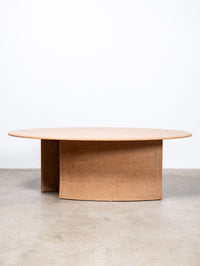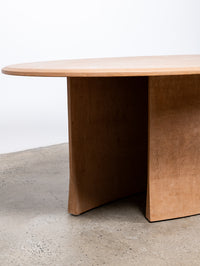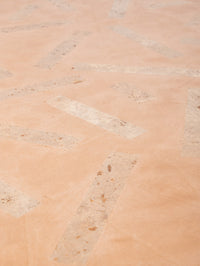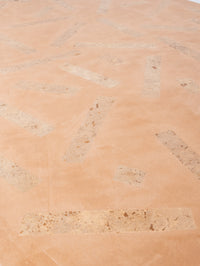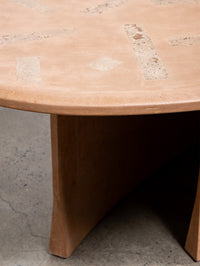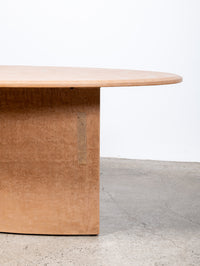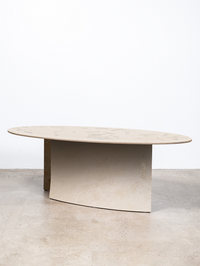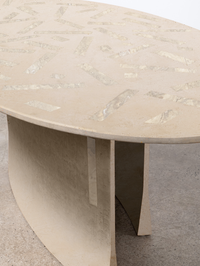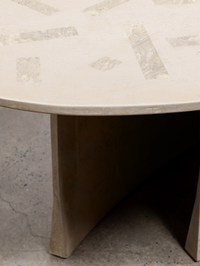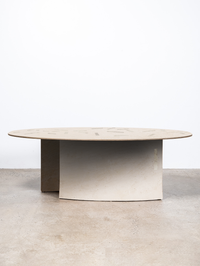 Plains Table
Plains Table by Harley Hamilton for Tigmi An exquisite oval table crafted from formed concrete and featuring inlays of travertine stone. It is comprised of two beautifully curved base pieces, and oval top. A table... Read more
Plains Table by Harley Hamilton for Tigmi
An exquisite oval table crafted from formed concrete and featuring inlays of travertine stone. It is comprised of two beautifully curved base pieces, and oval top.

A table that gestures towards the flatness and depth found across the Australian landscape - a place of expansive plains characterised by a paradoxical mix of uniformity and mystery where small details gain power amid so much space.
Made by hand in Byron Bay, the table is available in 2 sizes: 6-8 seater and 8-10 seater, in two different palette options - Mallee or Sand, both with a Nocce travertine inlay.
MADE TO ORDER. Please allow 10-12 weeks. Please enquire for stock on hand availability.
Please get in touch and provide your postcode for a shipping quote as this is a heavy/fragile item that needs to be handled with care
Materials: Concrete, travertine

Dimensions: Available in 2 sizes
6-8 Seater - H73.5cm (Top 20mm thickness) x W210cm x D110cm
8-10 Seater - H73.5cm (Top 20mm thickness) x W240cm x D110cm
Suitable for indoor and outdoor undercover use.

To maintain your table we recommend first dusting before wiping down with a cotton rag or microfiber towel using mild detergents and warm water to ensure surface integrity.

Acidic spills such as wine, lemon and coffee need to be cleaned immediately to prevent staining or damage to the stone. Blot spills with a clean, absorbent cloth. Repeat blotting with a dry cloth until spill is totally absorbed. Wash thoroughly with warm water and diluted mild detergent, then wipe dry.

Should stains occur there are options to treat them. To judge which product is most suitable to treat your stain we recommend contacting us directly and we can assess the damage.

Stone and concrete are durable yet porous materials that will age beautifully if properly maintained. This table range celebrates the imperfections inherent in natural stone as well as the makers marks that are left visible in the cast concrete surfaces. Please remember that the use of these materials executed in this manner means that each table differs slightly from the next. We are selective in those marks and imperfections that are retained and add to the character of an individual piece, and we ensure that those imperfections that are problematic to the function of the furniture are diligently screened and removed.

This piece comes with a 2 year warranty against defects in materials and workmanship.
We use a number of specialist logistics partners to ensure the careful handling and safe delivery of our furniture, fragile and bulky items.

Please provide your postcode when you contact us for a shipping quote.

Shipping rates do not include import duty which will be county-specific. Please check your country's customs rates before purchasing. There are some destinations that we are unable to ship this item to.