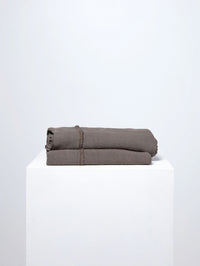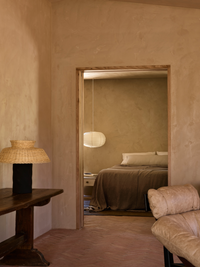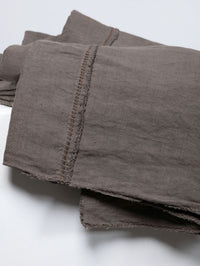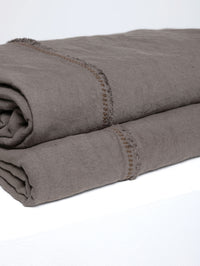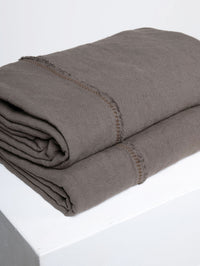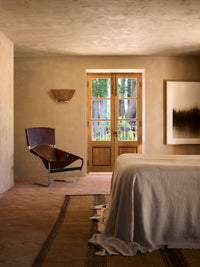 Embroidered Linen Bedspread, Cocoa
by Tigmi x The Bespoke Linen Co. Slowly handcrafted, super-soft hemp linen embroidered bedspread in stunning cocoa. Every piece is unique by design, featuring an embroidered ricamo stitch detail through the centre in chocolate, and... Read more
by Tigmi x The Bespoke Linen Co.
Slowly handcrafted, super-soft hemp linen embroidered bedspread in stunning cocoa. Every piece is unique by design, featuring an embroidered ricamo stitch detail through the centre in chocolate, and hand tufted edging.
The finest hemp linen has been skilfully loomed and hand-dyed by a small, family-run linen mill based in Europe.

The hemp and linen blend, with all the sustainability of hemp, delivers a soft touch and exceptional breathability, making this cover truly exceptional.
In collaboration with local artisan Melisa Smith, this collection embodies heirloom quality and is destined to be treasured between generations.

To fit king size bed with beautiful draping.

Also available in Ecru. (pictured last)
Materials: Hemp Linen

Dimensions: H290cm x W350cm
Gentle wash in cold water with mild detergent. Tumble dry using moderate temperature is okay but not advised. Avoid hanging in full sunlight for very long periods as uneven fading may occur.

We chose hemp linen because of its sustainability. This high yielding crop is a valuable pollen source for bees and needs very little water. Hemp is naturally weed and pest resistant therefore no pesticides and chemicals are required. Compared to flax linen it is eight times stronger, giving it a longer shelf life over all other natural fabrics.
Shipping rates are calculated for each carrier at checkout to determine the best rates in real-time.

Orders will be shipped within 2-5 business days of placement of order through Australia Post standard shipping or a courier service, depending on item and delivery location.

International shipping is calculated in Australian dollars and does not include import duty which will be country-specific and based on delivery address. Please check your country's customs rates before purchasing. We are unable to ship some items internationally and to some destinations. We ship to most countries.
Can't find what you're after?
We can source what you need.
Get in touch