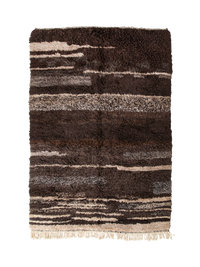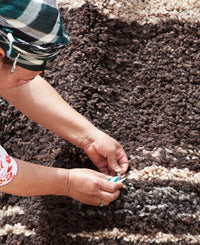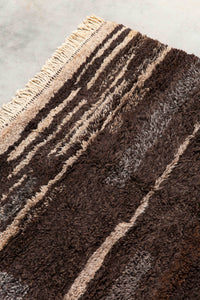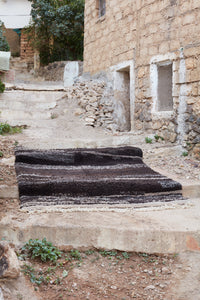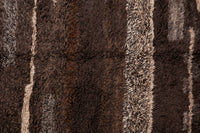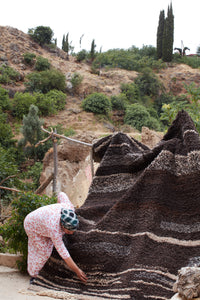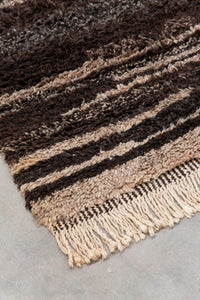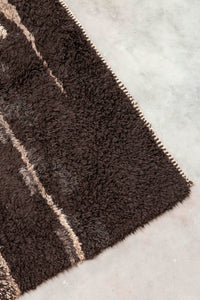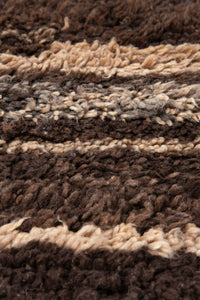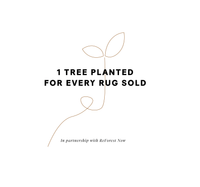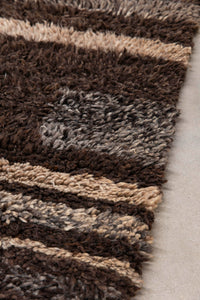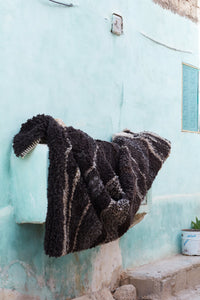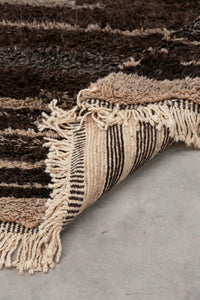 El Sahara
1 x On Sale Available NOW: 3m x 2m MADE TO ORDER: Allow 12+weeks Each design in the collection is available in any size, as a rug or runner. Please enquire for pricing. A... Read more
1 x On Sale Available NOW: 3m x 2m
MADE TO ORDER: Allow 12+weeks

Each design in the collection is available in any size, as a rug or runner. Please enquire for pricing.
A piece from our Moroccan rug collection DAR YOUK: Dar meaning 'home' in Arabic and Youk meaning 'one' in Tamazight.
El Sahara is named after the desert where the brown sheep used to source the wool are found, and is made from all-natural, hand processed wool with minimal human and environmental impact.

It has been made by the hands of master weavers atop of the Ain Leuh Spring in the Atlas Mountains through a cooperative of women, where the action of weaving is part of a complex chain of ancient cultural practices.
DAR YOUK is symbolic of the Ain Leuh Cooperative, which serves as a second home for the weavers and ensures sustainable practices, fair and equitable payments for the female artisans, in turn supporting their families and communities.
Through the creation of DAR YOUK it was important for us to work closely with the weavers, who often we know little about, and to acknowledge and give reverence to the women who created this collection. They are: Nina Gilbert, Khadouj Ouchekak, Hjaou Ammraoui, El Hachima Douiri, Khadija El Aabdi, Fatima Abaraou, Mahma Bahoussem Rachia Ghenam & Fatima Balhoussaine. 

Read more about the collection HERE.
In partnership with ReForest Now, one tree is planted for every rug sold. Your purchase contributes to protecting, conserving, and regenerating Australia's precious and biodiverse rainforests. Find out more here.
Like most things, our pieces require regular maintenance in order to last as long as possible. This includes regular vacuuming, rotation and periodic professional cleaning. As most of our carpets are made from premium quality wool, one of the best ways to refresh your carpet is to hang it outside on a sunny day in the fresh breeze.
In the case of a stain it is best to spot clean to and remove stain with a moist towel of warm water immediately. Do not let the stain dry. Lift as much as possible without rubbing. Always check for colour fastness prior by testing a small patch.
Professional cleaning should only be done off-site - avoid in-house services. We advise for a proper clean to consult a trained professional in a controlled environment.
If you have purchased the rug from us locally we include a complimentary cleaning within 12 months of your purchase, just drop it into the studio and we will have it back to you within 7 days.
We offer FREE SHIPPING WORLDWIDE for all rug purchases with delivery to most international destinations.
Orders will be shipped within 2-5 business days of placement of order through Australia Post or a courier service, depending on delivery location.  All orders are shipped standard so should you require express delivery please leave a note in the checkout; additional fees may be charged for alternate shipping services.
Our shipping costs do not include import duty which will be county-specific. Please check your country's customs rates before purchasing.
RETURNS
It is very important to us that you are delighted with your purchase. If you find that you are not happy with your purchase, you may return it to us with notification within 7 days and return within 14 days of purchase, provided that it is in its original condition.
We will endeavour to provide all the information we can about each item so you know exactly what you are getting. All product images are taken in natural daylight to ensure the colour portrayed on-screen is a true to life as possible. Items may change in appearance when placed in different or artificial lighting situations. If you would like to see an item in alternative lighting please email or call us.
In order to return an item, please contact us by email: hello@tigmitrading.com within 7 days of your purchase. We are unable to refund any shipping fees incurred for returned items.
We do not accept returns on sale items.
Please check our FAQS for any other questions you may have that we have already tried to answer!
Can't find what you're after?
We can source what you need.
Get in touch