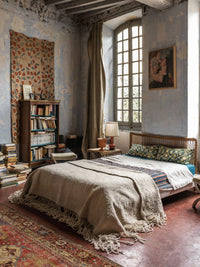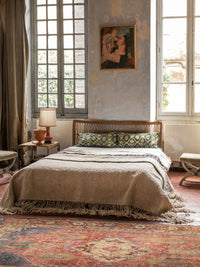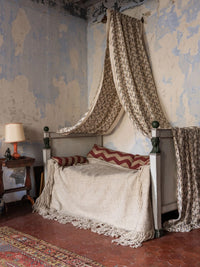 Cappelen Dimyr Coverlet No. 01
Artfully crafted Coverlets Collection by Cappelen Dimyr  - thoughtfully designed to elevate your home with luxury and elegance. Coverlet No 01 effortlessly captures attention with its elegant and sophisticated design. Unlike traditional bedspreads,... Read more
Artfully crafted Coverlets Collection by Cappelen Dimyr  - thoughtfully designed to elevate your home with luxury and elegance.
Coverlet No 01 effortlessly captures attention with its elegant and sophisticated design. Unlike traditional bedspreads, it is designed to cover the lower half of the bed. Its soft expression and heavy composition make a perfect statement piece for your bed, sofa or any preferred furniture. The dramatic draping created by the fringes adds a touch of artistry, while the meticulously hand sewn decorative stitch showcases the craftsmanship behind this exquisite item. With Coverlet No 1, less truly becomes more.
Handcrafted with precision and care in India, each coverlet is brought to life by highly skilled and experienced artisans, steeped in the rich traditions of their craft. Their expertise ensures that every piece is of exceptional quality and possesses the versatility to integrate into any interior. These timeless covers are more than just a decorative addition - they are statements of character, providing a source of joy and inspiration for years to come. 
Hand woven in 100% New Zealand Wool. 
Any variation in colour or detailing is a result of the handcrafted nature of this item and makes each piece unique. 
230cm x 150cm (exclusive of fringes)
Pile: 30cm
Hand Woven in India
Material: 100% New Zealand Wool in col: Sabbia
Cappelen Dimyr covers are meticulously crafted by skilled artisans using the finest natural materials, boasting long and robust wool fibers. In the event of any staining, we recommend engaging the services of a professional cleaning company. Wool's intrinsic properties, including the presence of natural fats within its fibers, enable self-cleaning capabilities. Therefore, for minor surface stains, the use of warm water can facilitate easier cleaning.

Cappelen Dimyr uses only natural fibers such as unbleached linen and wool in an effort to make products that have minimal harmful impact on the environment. Every piece is trimmed by hand, washed with natural soap, and dried under the sun. Cappelen Dimyr uses no chemicals in any part of the production, and constantly strives to improve their practices in respect for people and the planet. The products are certified by Good Weave Certification and Care & Fair.
Orders will be shipped through Australia Post standard shipping or a courier service, depending on item and delivery location.

Shipping rates are calculated for each carrier at checkout to determine the best rates in real-time.

Shipping rates do not include import duty which will be county-specific. Please check your country's customs rates before purchasing.
Can't find what you're after?
We can source what you need.
Get in touch