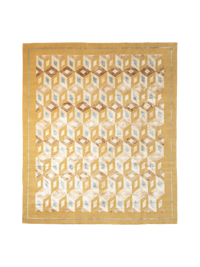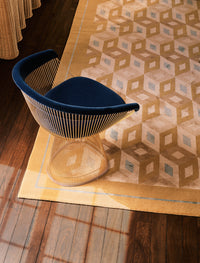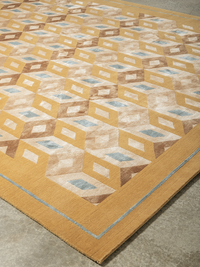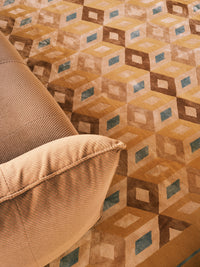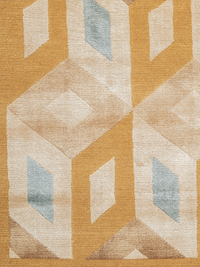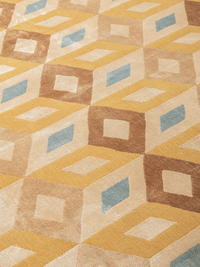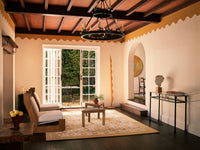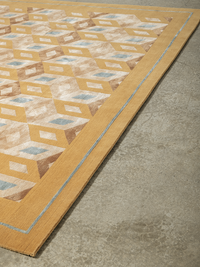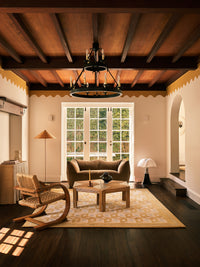 Le Marais - Sienne
Le Marais is a contemporary rug collection by TIGMI, born from a traditional Parisian mosaic tile that explores geometry, palette and materiality.  The design reinterprets the simple yet bold geometry found within timber... Read more
Le Marais is a contemporary rug collection by TIGMI, born from a traditional Parisian mosaic tile that explores geometry, palette and materiality. 
The design reinterprets the simple yet bold geometry found within timber mosaic floor design - referencing the past with natural materials that are presented in a fresh and modern way. 
Exuding a quiet sophistication, Le Marais is offered in four refined colour palettes and crafted from a base of luxurious New Zealand Wool contrasted with tonal pigments in silk. Each is handwoven by expert family-based weavers in Nepal.
Le Marais is certified by GoodWeave, a non-profit organisation that works to end child labour in the rug industry and to ensure a transparent and ethical production process.
In partnership with ReForest Now, one tree is planted for every rug sold. Your purchase contributes to protecting, conserving, and regenerating Australia's precious and biodiverse rainforests. Find out more here.
Materials: New Zealand Wool, Silk

Dimensions: 300cm x 240cm
SWEEP WITH A SOFT BROOM
Sweeping your silk rug every few days with a soft broom will remove most surface dust. Don't use a brush or broom that has coarse bristles as this may damage your rug's delicate fibres.

HANG RUG AND BEAT IT
Hang your rug over a clothesline and beat it lightly with the broom to remove trapped dust. Wear a disposable mask when you do this, to avoid inhaling the dust particles.
Do not use excessive force and don't hang the rug over a fence, this may cause damage to the reverse side.

VACUUM EVERY WEEK/SECOND WEEK
Vacuuming is still the best way to remove household dust and debris from any carpet surface, including a silk rug. Just remember not to use use any heavy-duty brush attachments as you could stretch and harm the silk fibres.

ABSORB ODORS AND MOISTURE
Silk rugs are just as prone to becoming smelly as other rugs, but there's an easy way to freshen them – household baking soda! A gentle yet effective natural deodoriser that won't leave a fragrance, but absorbs stale odours left behind by pets or cigarette smoke.

If the bad odour is caused by moisture, baking soda can fix that too as it is a hygroscopic substance.

Simply sprinkle the baking soda liberally over your silk rug. Sweep it across the rug with the soft broom, or move it around on the surface with your fingers. Leave it to sit for at least two hours and then vacuum thoroughly.

REMOVE STAINS
Remove any excess food with a spoon and blot any fluid with a soft damp cloth, if necessary some diluted hand detergent.

For problem areas, use a blotting rather than a rubbing motion to avoid spreading or grinding in the stain. Follow treatment with a clear water rinse and blot dry or use an appropriate wet/dry vacuum.

Never soak a silk rug. Silk tends to absorb moisture more than any other carpet fibre and left over moistures can quickly turn to mould and mildew.

PROFESSIONAL CLEANING
If you do employ the expertise of a professional cleaning service, please let them know that we don't recommend using chemicals for cleaning especially on delicate fibers like linen and silk. Linen is more delicate than wool and reacts differently to chemicals. All of our rugs are washed vigorously after they come off loom using only mild detergent and water.

We offer FREE SHIPPING AUSTRALIA-WIDE for all rug purchases. We also deliver to most international destinations.

Orders will be shipped within 2-5 business days of placement of order through a courier service, depending on delivery location. Additional fees may be charged for alternate shipping services.

Our shipping costs do not include import duty which will be county-specific. Please check your country's customs rates before purchasing.

RETURNS
It is very important to us that you are delighted with your purchase. If you find that you are not happy with your purchase, you may return it to us with notification within 7 days and return within 14 days of purchase, provided that it is in its original condition.

We will endeavour to provide all the information we can about each item so you know exactly what you are getting. Items may change in appearance when placed in different or artificial lighting situations. If you would like to see an item in alternative lighting please email or call us.
In order to return an item, please contact us by email: hello@tigmitrading.com within 7 days of your purchase.
We are unable to refund any shipping fees incurred for returned items.

We do not accept returns on sale items.

Please check our FAQS for any other questions you may have that we have already tried to answer!
Can't find what you're after?
We can source what you need.
Get in touch