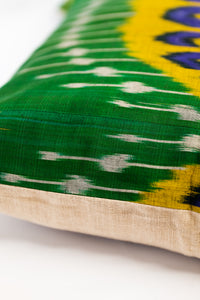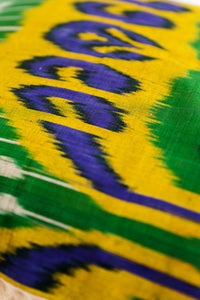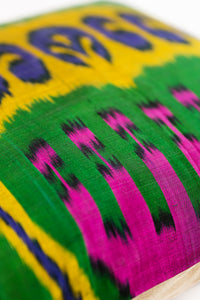 Edges Vintage Ikat Cushion
This handmade Ikat cushion features Ikat silk dating back to the 1950-60s and originates from Indonesia.  Made from 100% vintage Ikat silk fabric with natural linen, each cushion is completely unique. The backside is... Read more
This handmade Ikat cushion features Ikat silk dating back to the 1950-60s and originates from Indonesia. 
Made from 100% vintage Ikat silk fabric with natural linen, each cushion is completely unique.
The backside is made from high quality natural linen and the woven parts are lined with felted interlaced fabric. Zip Enclosure.
IKAT:
Ikat, meaning "bind" in Indonesian, is a dying technique used to create elaborate and multicoloured patterns. The slight blurriness to the design is characteristic of Ikat dying, and is a result of the intricate process the weaver undertakes. 

Size: 52cm x 50cm

Made from 100% vintage Ikat silk fabric with natural linen, each cushion is completely uniqu
Whilst we ensure all our pieces arrive in excellent condition, many of our products are one off vintage carpets and small signs of wear are to be expected. Our vintage items are professionally cleaned and repaired (if needed) but some sign of usage is to be expected. We believe the imperfections add to the beauty, character and story of each piece.
Like most things, our pieces require regular maintenance in order to last as long as possible. This includes regular vacuuming, rotation and periodic professional cleaning. As most of our carpet are made from premium quality wool, one of the best ways to refresh your carpet is to hang it outside on a sunny day in the fresh breeze.
In the case of a stain it is best to spot clean to and remove stain with a moist towel of warm water immediately. Do not let the stain dry. Lift as much as possible without rubbing. Always check for colour fastness prior by testing a small patch.
Professional cleaning should only be done 'off-site' - avoid 'in-house' services. We advise for a proper clean to consult a trained professional in a controlled environment.
If you have purchased the rug from us locally we include a complimentary cleaning within 12 months of your purchase, just drop it into the studio and we will have it back to you within 7 days.
To prolong the lifespan and materials of this item, we recommend that you hand wash only.
Shipping rates are calculated for each carrier at checkout to determine the best rates in real-time.

Orders will be shipped within 2-5 business days of placement of order through Australia Post standard shipping or a courier service, depending on item and delivery location.

International shipping is calculated in Australian dollars and does not include import duty which will be country-specific and based on delivery address. Please check your country's customs rates before purchasing. We are unable to ship some items internationally and to some destinations. We ship to most countries.
Can't find what you're after?
We can source what you need.
Get in touch