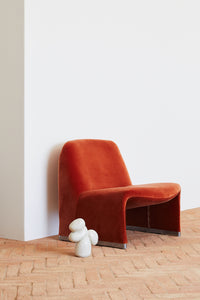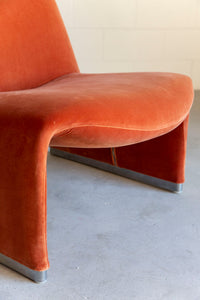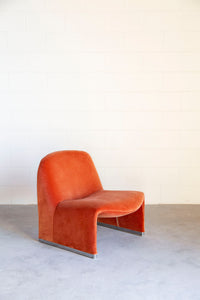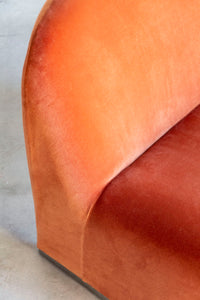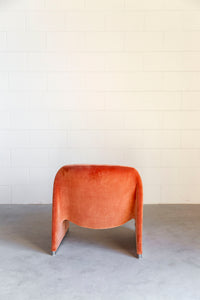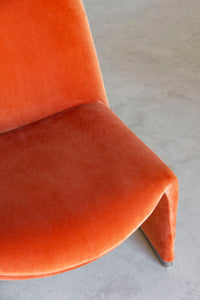 Vintage Artifort Alky Chair - Terracotta
Designed by Giancarlo Piretti for Anonima Castelli in the 1970s, the Alky Chair is an iconic midcentury chair. This original Alky has been lovingly reupholstered in beautiful Terracotta Velvet. ONE ONLY Dimensions: 75cm... Read more
Designed by Giancarlo Piretti for Anonima Castelli in the 1970s, the Alky Chair is an iconic midcentury chair.
This original Alky has been lovingly reupholstered in beautiful Terracotta Velvet.
ONE ONLY
Dimensions: 75cm H x 65cm W x 60cm D x 42cm SH

About Giancarlo Piretti:
Italian interior and industrial designer Giancarlo Piretti was born in 1940 in Bologna. He obtained his teaching degree in drawing at the Art Institute of Bologna (dates unknown), and continued his studies at the Academy of Fine Arts in Bologna in 1960. From 1963 until 1970, he taught interior design at the Art Institute of Bologna. Other well-known design include the DCS 106 Stacking Chair (1965); Plona Lounge Chair (1969); Plantone Folding Desk (1970); Plano (1971, Gold Medal IBD); Planto Coat Rack (1972); the System 61 modular sofa system (1973); Xylon Chair (1992, two G Mark Awards 1994); and the Torsion Seating Collection (1995-6, G Mark Award 1997).
Please get in touch and provide your postcode for a shipping quote as this is a bulky item that needs to be handled with care.
Recommended for indoor use only.
We use a number of specialist logistics partners to ensure the careful handling and safe delivery of our furniture, fragile and bulky items.
Please provide your postcode when you contact us for a shipping quote.
Shipping rates do not include import duty which will be county-specific. Please check your country's customs rates before purchasing. There are some destinations that we are unable to ship this item to.