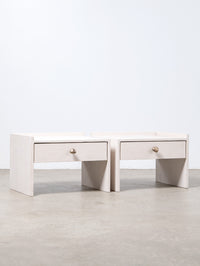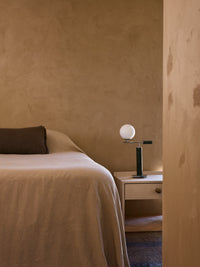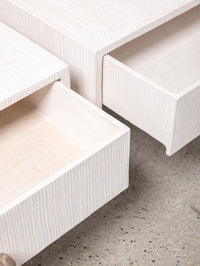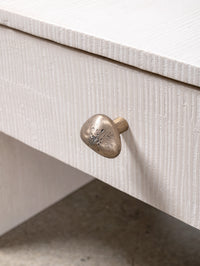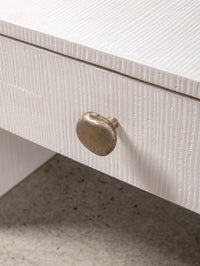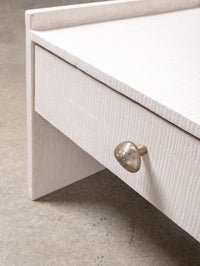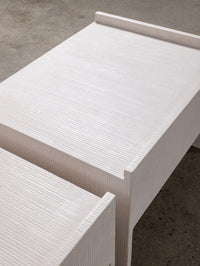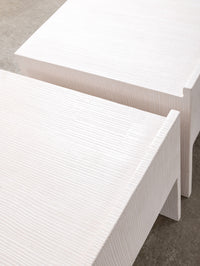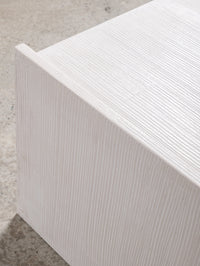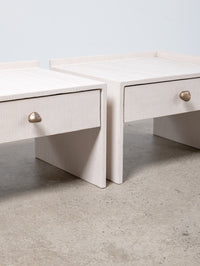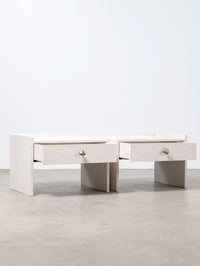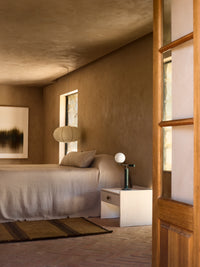 Harley Hamilton Bedside Table with Oko Olo No. 9 Handle
Bedside Table by Harley Hamilton A handmade beside table designed and constructed in Byron Bay, realised in a troweled and cast glass fibre reinforced concrete in warm white - creating a textured profile... Read more
Bedside Table by Harley Hamilton
A handmade beside table designed and constructed in Byron Bay, realised in a troweled and cast glass fibre reinforced concrete in warm white - creating a textured profile resulting in a beautiful and refined finish.
Available in both left and right orientation, they feature a functional soft gliding drawer that has been finished with a hand casted bronze pull by Oko Olo.
Made to order
Available exclusively from Tigmi.
Price is per table.
Read more about Harley Hamilton, designer of the collection HERE
Material: GFRC - Glass Fibre Reinforced Concrete

Dimensions: H43cm x W63cm x D50cm
Suitable for indoor and outdoor undercover use.

To maintain your table we recommend first dusting before wiping down with a cotton rag or microfiber towel using mild detergents and warm water to ensure surface integrity.

Acidic spills such as wine, lemon and coffee need to be cleaned immediately to prevent staining or damage to the stone. Blot spills with a clean, absorbent cloth. Repeat blotting with a dry cloth until spill is totally absorbed. Wash thoroughly with warm water and diluted mild detergent, then wipe dry.

Should stains occur there are options to treat them. To judge which product is most suitable to treat your stain we recommend contacting us directly and we can assess the damage.

Concrete is a durable yet porous materials that will age beautifully if properly maintained. This table range celebrates the imperfections inherent in the makers marks that are left visible in the cast concrete surfaces. Please remember that the use of these materials executed in this manner means that each table differs slightly from the next. We are selective in those marks and imperfections that are retained and add to the character of an individual piece, and we ensure that those imperfections that are problematic to the function of the furniture are diligently screened and removed.

This piece comes with a 2 year warranty against defects in materials and workmanship.

We use a number of specialist logistics partners to ensure the careful handling and safe delivery of our furniture, fragile and bulky items.

Please complete the shipping enquiry form and we will provide you a shipping quote via the contact details you provide.

Shipping rates do not include import duty which will be county-specific. Please check your country's customs rates before purchasing. There are some destinations that we are unable to ship this item to.