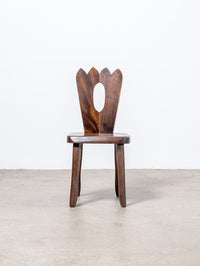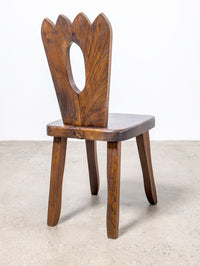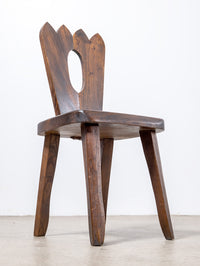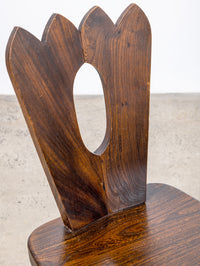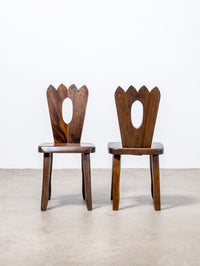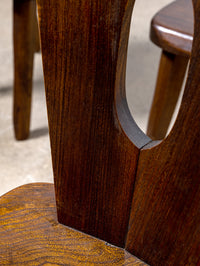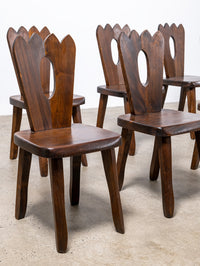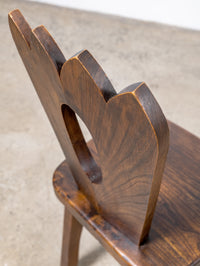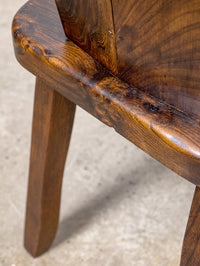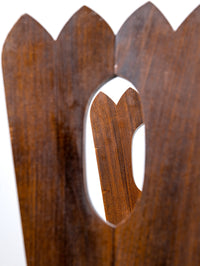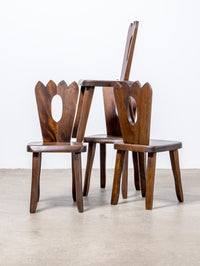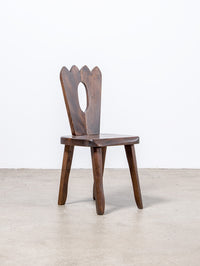 1950s Brutalist Crown Chair in Elm
Set of six handcrafted chairs from the 1950s, reminiscent of the style of renowned designer Olavi Hanninen. These chairs are a testament to exquisite craftsmanship and timeless design, meticulously made from solid elm... Read more
Set of six handcrafted chairs from the 1950s, reminiscent of the style of renowned designer Olavi Hanninen. These chairs are a testament to exquisite craftsmanship and timeless design, meticulously made from solid elm wood.
Each chair features a distinctive composition, consisting of four square section legs that provide stability and a strong foundation. The use of solid elm wood ensures durability and lends a natural warmth to the overall aesthetic of the chairs.
The seat and backrest of each chair are crafted with careful attention to detail, shaped in the form of a crown. This unique design element adds an elegant touch enhancing both their visual appeal and ergonomic comfort.
2 AVAILABLE. Price listed is per individual chair.
Please get in touch and provide your postcode for a shipping quote as this is a heavy/fragile item that needs to be handled with care
Materials: Elm

Dimensions: 88cm H x 40cm W x 38cm D, 44cm SH
Recommended for indoor use only.
We use a number of specialist logistics partners to ensure the careful handling and safe delivery of our furniture, fragile and bulky items.

Please provide your postcode when you contact us for a shipping quote.

Shipping rates do not include import duty which will be county-specific. Please check your country's customs rates before purchasing. There are some destinations that we are unable to ship this item to.