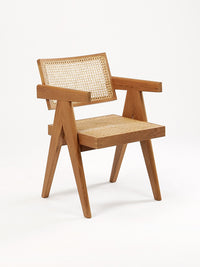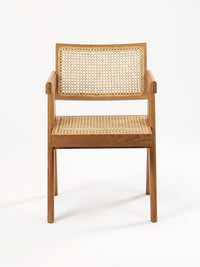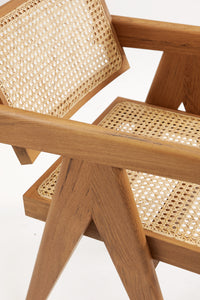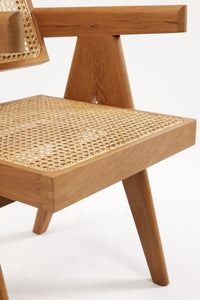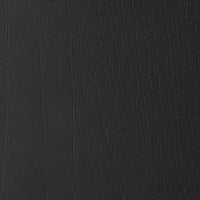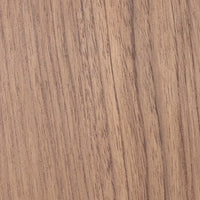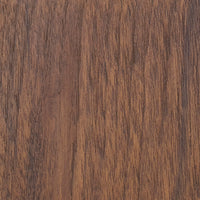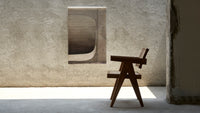 Office Chair V-Leg
Pierre Jeanneret re-edition of the Office Chair V Leg - the office cane chair originally made for administrative offices in Chandigarh. Structural nuances seen in vintage pieces - including finger joints, inclination of... Read more
Pierre Jeanneret re-edition of the Office Chair V Leg - the office cane chair originally made for administrative offices in Chandigarh. Structural nuances seen in vintage pieces - including finger joints, inclination of the seat, bowed backrest, gentle rounding of edges along the length of arms and legs - are given due attention in this version of the chair. Attention is also paid to rustic elements of the original design (such as cane-work knots left exposed at the back of chair) which are all diligently preserved. The natural rattan cane used in the seat and back rest is peeled and woven meticulously by hand.

Made from reclaimed or ethically harvested timber and cane.
Tigmi is the only Australian distributor for the Phantom Hands 'Chandigarh' collection, awarded 'Best Re-Edition' in the 2023 Monocle Design Awards - celebrating design across the world, and honouring people and products that are enhancing lives.
Please complete the shipping enquiry form for a shipping quote as this is a heavy/fragile item that needs to be handled with care.
Material: Teak (Tectona Grandis) and natural cane

Finishes: Natural teak finish / Dark stain / Black stain (with grain) / Diamond cane

Dimensions: 77.5cm H x 51cm W x 60.5cm D / Seat Height: 43.5cm / Arm Height 66.5cm

Recommended for indoor use only.
We use a number of specialist logistics partners to ensure the careful handling and safe delivery of our furniture, fragile and bulky items.

Please complete the shipping enquiry form and we will provide you a shipping quote via the contact details you provide.

Shipping rates do not include import duty which will be county-specific. Please check your country's customs rates before purchasing. There are some destinations that we are unable to ship this item to.