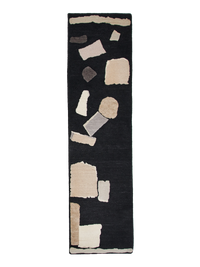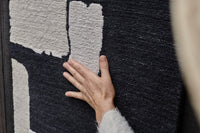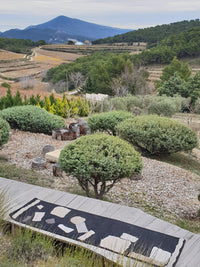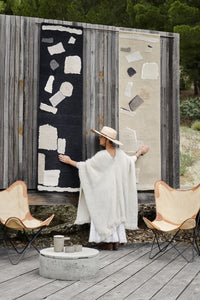 Charlotte Culot Cobble Stone Black
'Maison Rhizomes' Tapestry Collection by Charlotte Culot Limited Edition of 8 A series of woven art tapestries, presented in beautiful hand-spun Tibetan wool, Indian silk and linen by Belgian-born artist Charlotte Culot . Working... Read more
'Maison Rhizomes' Tapestry Collection by Charlotte Culot
Limited Edition of 8
A series of woven art tapestries, presented in beautiful hand-spun Tibetan wool, Indian silk and linen by Belgian-born artist Charlotte Culot .
Working with expert Nepalese weavers and established textile and colour specialist Perrine Blaise, the tapestries combine ethically sourced, natural materials and meticulously rendered dyes to translate Culot's artworks from the canvas into the third dimension.
The name RHIZOMES translates to 'mass of roots', with the collection rooted in natural connection, linking functionality with art. Culot's intention is that the rugs are considered as pieces of art, with the hope that they are adopted into homes as artworks rather than objects of decoration.
Made to Order in Nepal

Read more about this collection in our Tête-à-tête with Charlotte Culot.
Size: 300cm x 82cm
Like most things, our pieces require regular maintenance in order to last as long as possible. This includes regular vacuuming, rotation and periodic professional cleaning. As most of our carpets are made from premium quality wool, one of the best ways to refresh your carpet is to hang it outside on a sunny day in the fresh breeze.
In the case of a stain it is best to spot clean to and remove stain with a moist towel of warm water immediately. Do not let the stain dry. Lift as much as possible without rubbing. Always check for colour fastness prior by testing a small patch.
Professional cleaning should only be done off-site - avoid in-house services. We advise for a proper clean to consult a trained professional in a controlled environment.
If you have purchased the rug from us locally we include a complimentary cleaning within 12 months of your purchase, just drop it into the studio and we will have it back to you within 7 days.
We offer FREE SHIPPING AUSTRALIA-WIDE for all rug purchases. We also deliver to most international destinations.

Orders will be shipped within 2-5 business days of placement of order through a courier service, depending on delivery location. Additional fees may be charged for alternate shipping services.

REST OF WORLD
Shipping will be calculated at checkout. Our shipping costs do not include import duty which will be county-specific. Please check your country's customs rates before purchasing.
Can't find what you're after?
We can source what you need.
Get in touch