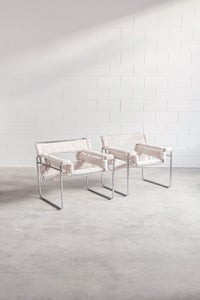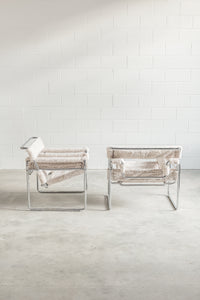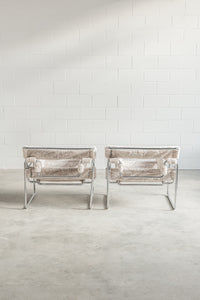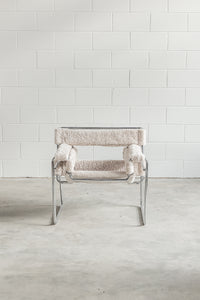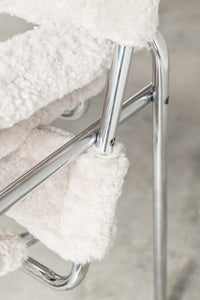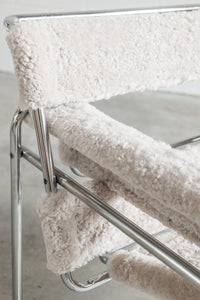 Wassily Chair with New Zealand Sheepskin Upholstery
Model B3 'Wassily' Chair with custom luxurious New Zealand Sheepskin Upholstery from Wilson and Dorset - 100% Pure New 12mm Wool Pile.  Unmarked late model reissue designed by Marcel Breuer in 1925. One of the most... Read more
Model B3 'Wassily' Chair with custom luxurious New Zealand Sheepskin Upholstery from Wilson and Dorset - 100% Pure New 12mm Wool Pile. 
Unmarked late model reissue designed by Marcel Breuer in 1925.
One of the most iconic furniture designs of the Bauhaus movement, it marks the first time the armchair was brought to its most minimal form.
Made from plated tubular chrome and lovingly upholstered with 100% Pure New Wool, this chair is an incredible and unique style.  
Dimensions: 83cm H x 74cm W x 74cm D x 43cm SH
TWO AVAILABLE. 

Please get in touch and provide your postcode for a shipping quote as this is a bulky item that needs to be handled with care.
___
Why Wool?
Natural – Sheep Wool is a 100% natural fibre, free of the petro-chemicals found in synthetics.
Eco-friendly – Grown under sustainable farming conditions, we take care of our environment.
Stain Resistant – Natural wool fibres repel stains, dirt and dust, and are easy to clean.
Natural Insulator – The natural properties of sheepskin provide insulation, regulate temperature and absorb sound.
Enduring – Sheepskin is durable and will stand the test of time, ageing gracefully like your favourite leather sofa.
Biodegradable – At the end of its useful life, wool can be returned to the soil, where it decomposes naturally.
Recommended for indoor use only.
We use a number of specialist logistics partners to ensure the careful handling and safe delivery of our furniture, fragile and bulky items.
Please provide your postcode when you contact us for a shipping quote.
Shipping rates do not include import duty which will be county-specific. Please check your country's customs rates before purchasing. There are some destinations that we are unable to ship this item to.