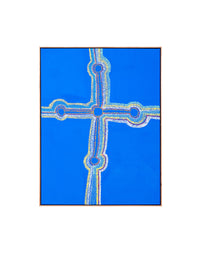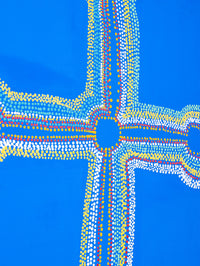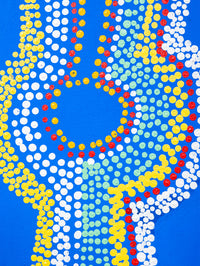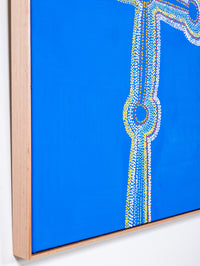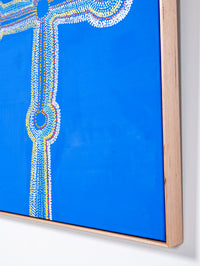 Walka Wiru Ngura Wiru
Walka Wiru Ngura Wiru by Terry Ward A vibrant piece portraying the detail oriented line work in many colours, a unique technique present across Terry Ward's works.  This work is proudly exhibited on... Read more
Walka Wiru Ngura Wiru by Terry Ward
A vibrant piece portraying the detail oriented line work in many colours, a unique technique present across Terry Ward's works. 
This work is proudly exhibited on Bundjalung land alongside Naidoc Week 2023.
___
Embarking on his artistic journey in 2022, it quickly became evident that Terry Ward possessed  his mother, revered Indigenous Artist Ngipi Ward's, keen eye and artistic sensibility. 
Ward's inspiration draws from the legacy of his Mother's while building upon the artistic pedigree that surrounds his at Ninuku Arts. Influenced by renowned Artists, Stanley Young and Samuel Miller, Terry masterfully employs lines of different colours, showcasing a unique technique that sets him apart. Rather than covering his canvas entirely, he artfully shapes and positions these lines, adding depth and intrigue to his compositions. 
Terry, along with his wide Rowena, who is also a painter, resides in the scenic town of Pipalyatjara, South Australia. 
Materials: Acrylic on canvas, framed in waxed Tasmanian Oak

Dimensions: H102cm x W76cm x D5.5cm
In Australia, this item will be shipped using a specialty white glove service with a flat rate fee of $300AUD, added at checkout. You will be contacted by our team to confirm delivery timings.

International shipping for this item is a flat rate of $950AUD via international courier service with custom packaging, added at checkout. Please note this does not include any customs fee, taxes or duties which may be applicable to your destination country.
Can't find what you're after?
We can source what you need.
Get in touch