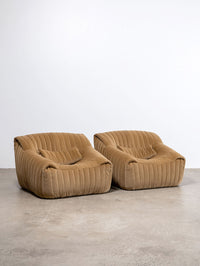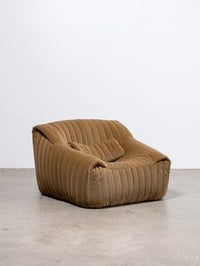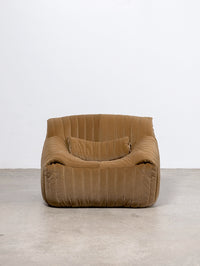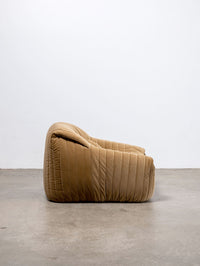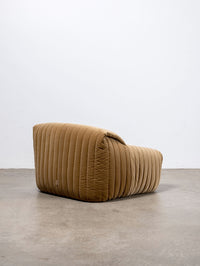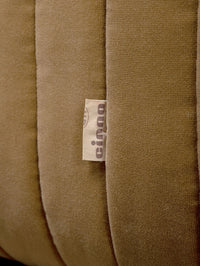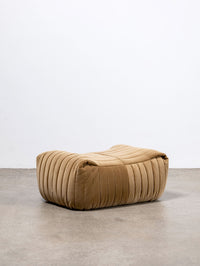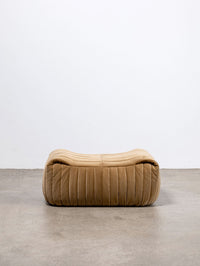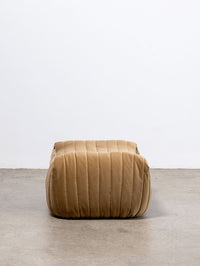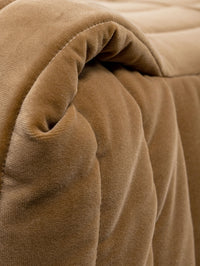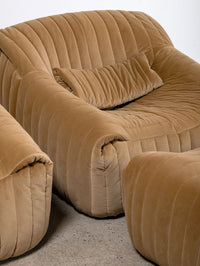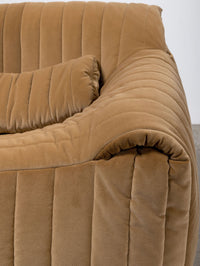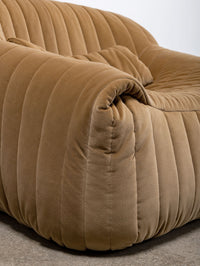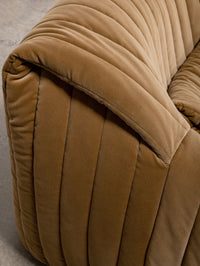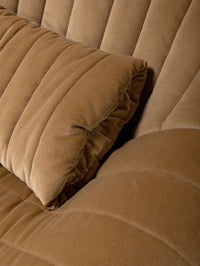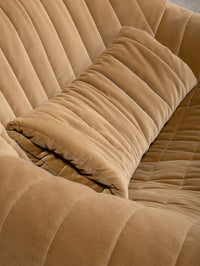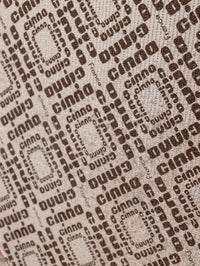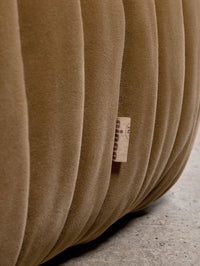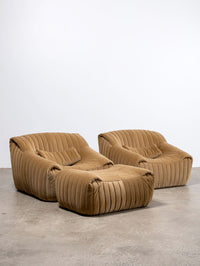 Sandra by Cinna for Ligne Roset in Burnt Butter Velvet
An iconic 1970s design, the Sandra sofa collection was designed by Annie Hieronimus for Cinna. The lines and soft curves of the armchair along with the folds of the fabric give this range... Read more
An iconic 1970s design, the Sandra sofa collection was designed by Annie Hieronimus for Cinna. The lines and soft curves of the armchair along with the folds of the fabric give this range its distinct aesthetic.
Constructed from foam, these have been newly reupholstered in 100% cotton velvet in Burnt Butter. Through reupholstery we have carefully retained the original 1970s makers marks tag and graphic on base.
2 Armchairs and 1 Ottoman available. Ideally sold as a set.
Set includes 3 cushions, upholstered in the same luxurious velvet.
Please complete the shipping enquiry form for a shipping quote as this is a heavy/fragile item that needs to be handled with care.
Materials: Foam, 100% Cotton Velvet in Burnt Butter

Armchair: H70cm x W90cm x D95cm, SH 36cm
Ottoman: H36cm x W87cm x D70cm
Clean & Refresh
Gently brush with a fabric brush in the direction of the pile.

Dry Stains
Scrape away any debris from the surface with a dull knife or spoon. Using a damp cloth and a solution of one part dishwashing detergent to ten parts water, gently blot the stain, working your way in a circle from the outside of the stain to the middle. Repeat the process as necessary until the stain is removed.

Wet Stains
Blot immediately with slightly damp cloth. After removing a stain, pat dry with a clean lint-free cloth; as the fabric dries, brush gently in the direction of the pile.

DO NOT use any cleaning product that contains bleach.

Velvet
For slight bruises or crush marks, steam the velvet (keeping at a distance to avoid water drops forming on the pile's surface) and gently brush with a fabric brush in the direction of the pile.
We use a number of specialist logistics partners to ensure the careful handling and safe delivery of our furniture, fragile and bulky items.

Please complete the shipping enquiry form and we will provide you a shipping quote via the contact details you provide.

Shipping rates do not include import duty which will be county-specific. Please check your country's customs rates before purchasing. There are some destinations that we are unable to ship this item to.