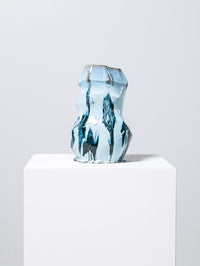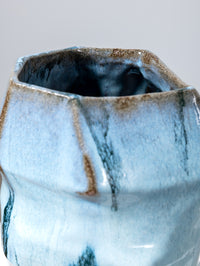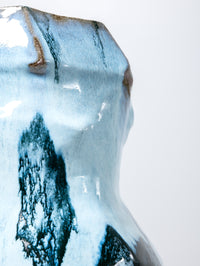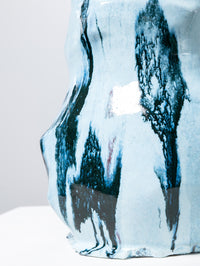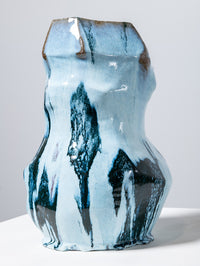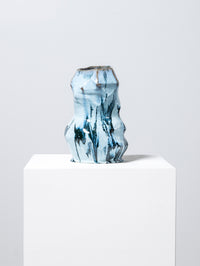 Samantha Robinson Cathedral Vessel - Copper, Chun and Iron
10. Cathedral Vessel - Copper, Chun & Iron 34cm H x 13cm W The 'Cathedral Series' by Samantha Robinson is inspired by the Magnetic and Cathedral Termite Mounds near Litchfield National park in the... Read more
10. Cathedral Vessel - Copper, Chun & Iron
34cm H x 13cm W
The 'Cathedral Series' by Samantha Robinson is inspired by the Magnetic and Cathedral Termite Mounds near Litchfield National park in the Northern Territory. These sculptural mounds are prominent in the area and beautifully eerie, reaching up to 4m tall. The way they form from the earth as they rise out of the dirt has been the inspiration behind this series of hand-thrown vessels.
Fired in reduction, they are finished with a series of glazes that Samantha has been developing for over 25 years.
Samantha Robinson is a local ceramicist who is inspired by her openness to experimentation and love of colour.
Samantha Robinson's 'Cathedral Series' is exhibiting as a part of our Local Makers Art Series featuring a catalogue of unseen work by local artists from Byron Bay.
Materials: Glazed Ceramic

Dimensions: 34cm H x 13cm W
Shipping rates are calculated for each carrier at checkout to determine the best rates in real-time.

Orders will be shipped within 2-5 business days of placement of order through Australia Post standard shipping or a courier service, depending on item and delivery location.

International shipping is calculated in Australian dollars and does not include import duty which will be country-specific and based on delivery address. Please check your country's customs rates before purchasing. We are unable to ship some items internationally and to some destinations. We ship to most countries.
Can't find what you're after?
We can source what you need.
Get in touch