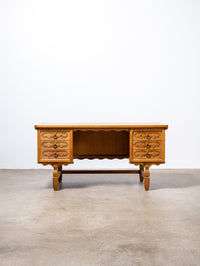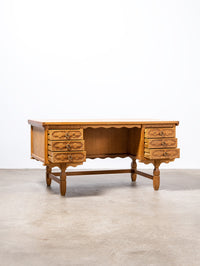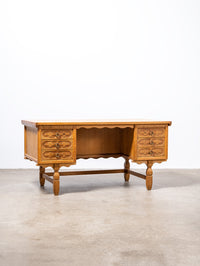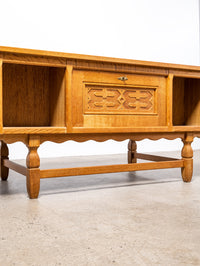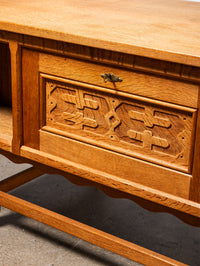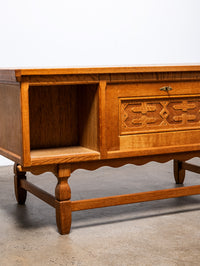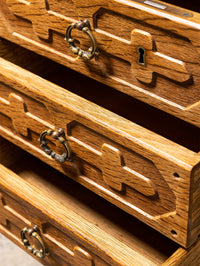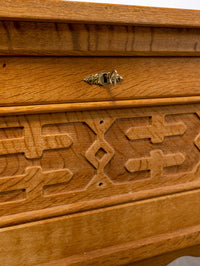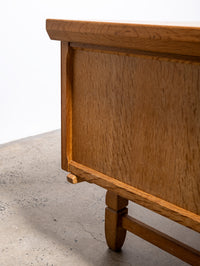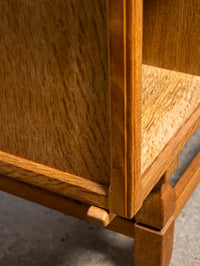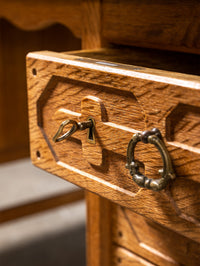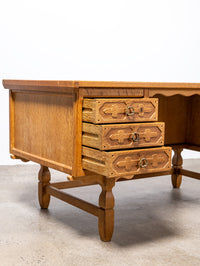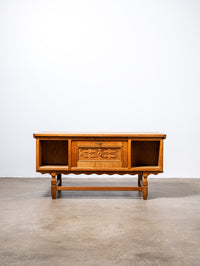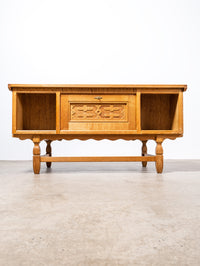 Oak Danish Henning Kjaernulf Desk
Oak Danish Henning Kjaernulf Desk - a stunning piece of furniture that combines Danish craftsmanship with sleek mid-century design. Designed by renowned Danish furniture designer Henning Kjaernulf, this desk embodies the timeless beauty... Read more
Oak Danish Henning Kjaernulf Desk - a stunning piece of furniture that combines Danish craftsmanship with sleek mid-century design. Designed by renowned Danish furniture designer Henning Kjaernulf, this desk embodies the timeless beauty and functional simplicity that characterize Scandinavian design.
Crafted from solid oak, this desk showcases the natural grain and warmth of the wood, adding a touch of organic elegance. Featuring six drawers with seat opening on one side, and open shelving with a dropdown centre shelf on the other - making it a versatile addition to both modern and traditional interiors.
Circa 1960s, the drawers are secured by well maintained brass hinges and original working brass lock and keys.
This piece has been expertly restored and features very minimal signs of wear given its Mid-century origin.
ONE ONLY.
Please get in touch and provide your postcode for a shipping quote as this is a bulky item that needs to be handled with care.
Materials: Oak

Dimensions: H75cm x W150cm X D75cm
Recommended for indoor use only.
We use a number of specialist logistics partners to ensure the careful handling and safe delivery of our furniture, fragile and bulky items.

Please provide your postcode when you contact us for a shipping quote.

Shipping rates do not include import duty which will be county-specific. Please check your country's customs rates before purchasing. There are some destinations that we are unable to ship this item to.