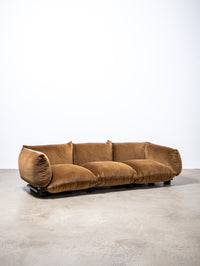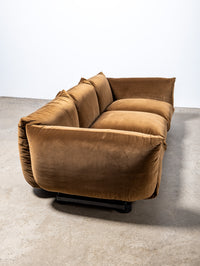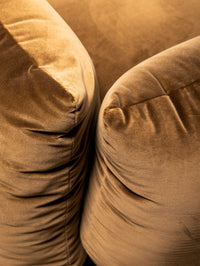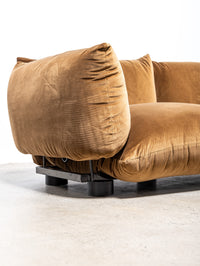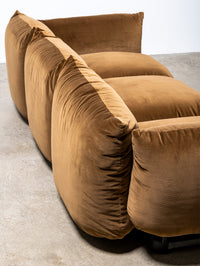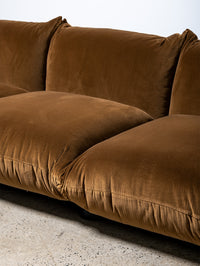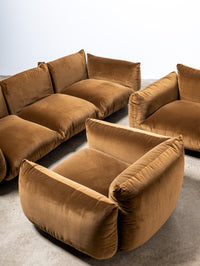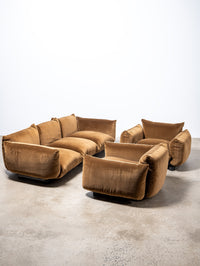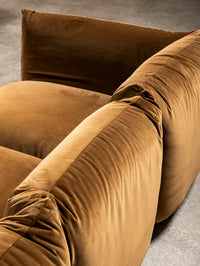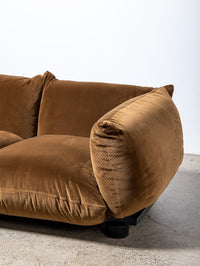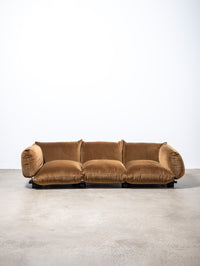 Mario Marenco Sofa
The Marenco 3-Seater Sofa - by Mario Marenco for Arflex, 1970s. This Italian modern sofa has an invisible metal structure to which the cushions are anchored to, providing firmness and rigidity to the structure while... Read more
The Marenco 3-Seater Sofa - by Mario Marenco for Arflex, 1970s.
This Italian modern sofa has an invisible metal structure to which the cushions are anchored to, providing firmness and rigidity to the structure while allowing for unparalleled comfort. It is a testament to Marenco's unique design philosophy and his ability to create pieces that exude both modernity and timeless appeal.
Reupholstered in a high quality brown cotton velvet.
ONE ONLY.
Also Available in Mario Marenco Lounge Chair
Please get in touch and provide your postcode for a shipping quote as this is a heavy/fragile item that needs to be handled with care
Materials: Cotton Velvet Upholstery

Dimensions: 60cm H x 230cm W x 93cm D, 30cm SH
Recommended for indoor use only.


We use a number of specialist logistics partners to ensure the careful handling and safe delivery of our furniture, fragile and bulky items.

Please provide your postcode when you contact us for a shipping quote.

Shipping rates do not include import duty which will be county-specific. Please check your country's customs rates before purchasing. There are some destinations that we are unable to ship this item to.