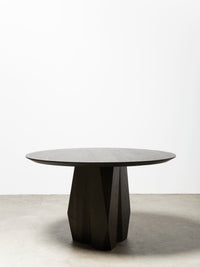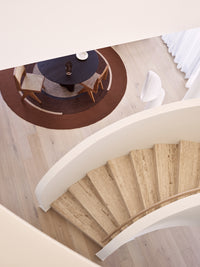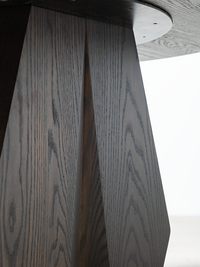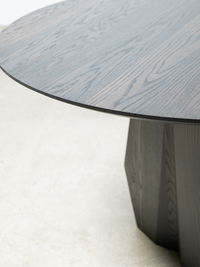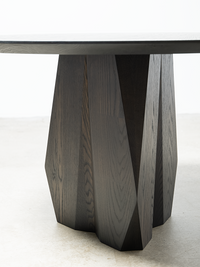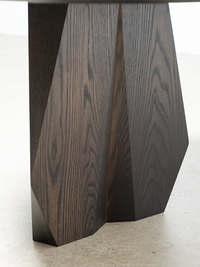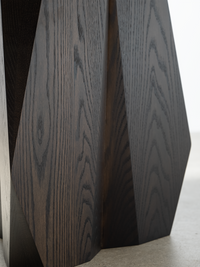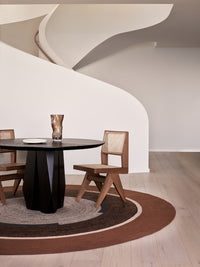 Marco Santucci Round Gem Dining Table
American Red Oak Round Gem Dining Table by Marco Santucci. Based in the Byron Hinterland, Marco Santucci is a local sculpture and painter who's practice has shifted into the realm of bespoke furniture... Read more
American Red Oak Round Gem Dining Table by Marco Santucci.
Based in the Byron Hinterland, Marco Santucci is a local sculpture and painter who's practice has shifted into the realm of bespoke furniture making. With a strong history in Art making, Marco's designs are striking decorative objects with clear function.
With a tapered edge round top and gem shaped base, each angle of this piece captures a unique aesthetic where light and shadow meet. Seats 4-6 comfortably.
These unique and sculptural pieces are hand made exclusively for Tigmi.
Available in a Black Stain Finish.
Please get in touch and provide your postcode for a shipping quote as this is a heavy/fragile item that needs to be handled with care
Materials: American Oak, black stain
Dimensions: 130cm ø x 76.5cm H
Recommended for indoor use only.
We use a number of specialist logistics partners to ensure the careful handling and safe delivery of our furniture, fragile and bulky items.

Please complete the shipping enquiry form and we will provide you a shipping quote via the contact details you provide.

Shipping rates do not include import duty which will be county-specific. Please check your country's customs rates before purchasing. There are some destinations that we are unable to ship this item to.