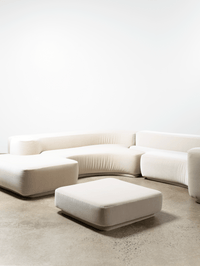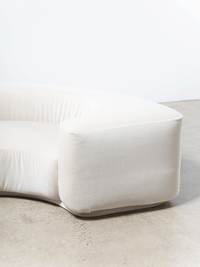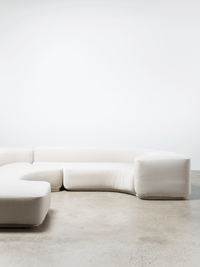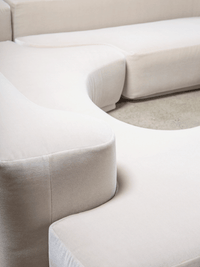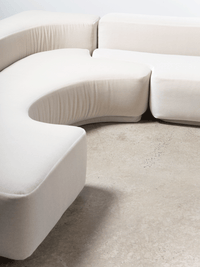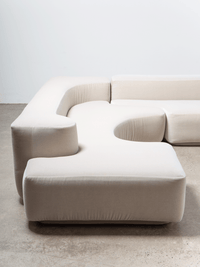 Lara Sofa and Ottoman in Mohair Velvet
Original Lara Sofa by Pamio, Massari & Toso for Stillwood 1960s, Italy. It has been lovingly reupholstered in Dinole Velluto Kid Mohair Velvet. Creating a sunken living room feeling yet suspending it off the ground, the Lara... Read more
Original Lara Sofa by Pamio, Massari & Toso for Stillwood 1960s, Italy. It has been lovingly reupholstered in Dinole Velluto Kid Mohair Velvet.
Creating a sunken living room feeling yet suspending it off the ground, the Lara Sofa was first designed in Italy circa 1960 by Roberto Pamio & Renato Toso – students of Carlo Scarpa
With the ability to separate in two parts, it has a comfortable and friendly presence of the spaces it occupies.
Th luxurious 100% Kid Mohair by Dinole Velluto, Italy has a natural elasticity giving it strength and durability, and is considered an eco-sustainable fibre based on its method of production. The most refined fabrics are produced with the Kid Mohair, made from the goat of Angora which has developed a very compact coat with characteristics of ductility and water repellency.
A truly beautiful restored collectors piece.
ONE ONLY.
Please get in touch and provide your postcode for a shipping quote as this is a heavy/fragile item that needs to be handled with care.
Dimensions: H58cm H x W250cm D295cm / SH30cm / SD52cm
Recommended for indoor use only.
We use a number of specialist logistics partners to ensure the careful handling and safe delivery of our furniture, fragile and bulky items.

Please provide your postcode when you contact us for a shipping quote.

Shipping rates do not include import duty which will be county-specific. Please check your country's customs rates before purchasing. There are some destinations that we are unable to ship this item to.