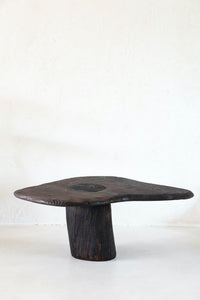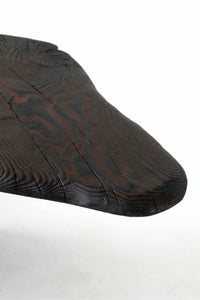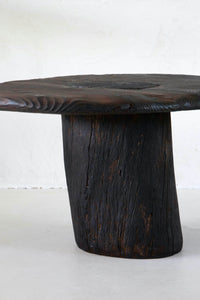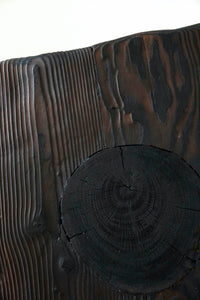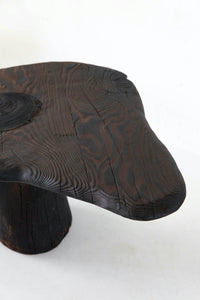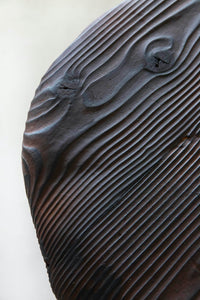 Lex Williams Vol. 1 - Tennon Table
Vol. 1 'Liminality' by Byron Bay artist Lex Williams, a collection of bespoke handmade timber pieces that combine functional and sculptural elements. Lex's approach to creating is impulsive - allowing for spontaneous and... Read more
Vol. 1 'Liminality' by Byron Bay artist Lex Williams, a collection of bespoke handmade timber pieces that combine functional and sculptural elements. Lex's approach to creating is impulsive - allowing for spontaneous and uncontrived works that reflect and celebrate the character of the material.
The Tennon Table is a coffee table size made from a salvaged Blue Gum base and Douglas Fir top, and finished in the Shou Sugi Ban style - the wonderful irregular curves showcasing the beauty of both timbers. 
Dimensions: H 41cm x W 81cm x D 77cm
Please get in touch and provide your postcode for a shipping quote as this is a heavy/fragile item that needs to be handled with care.
About the Collection: Liminality - from the Latin word 'limen' meaning threshold - is in anthropology the quality of ambiguity or disorientation that occurs in the middle stage of a rite of passage. In this phase the participant no longer holds their pre-ritual status but has not yet begun the transition to the status they will hold the the rite is complete. During the rite's liminal stage, participants 'stand at the threshold' between their previous way of structuring their identity, time or community, and a new way - which the completing rite establishes. Each piece is one of a kind and hand made in Byron Bay.
Recommended for indoor use only.
We use a number of specialist logistics partners to ensure the careful handling and safe delivery of our furniture, fragile and bulky items.
Please provide your postcode when you contact us for a shipping quote.
Shipping rates do not include import duty which will be county-specific. Please check your country's customs rates before purchasing. There are some destinations that we are unable to ship this item to.