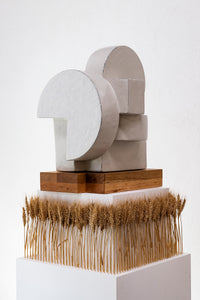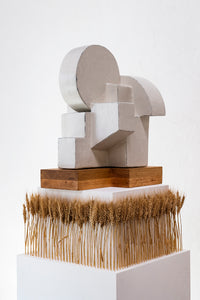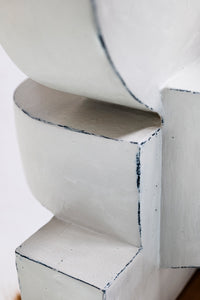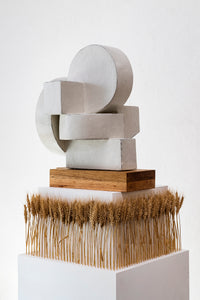 Amanda Shadforth Utopia III
Utopia III by Amanda Shadforth. A miscellany of precisely balanced regular and irregular rectangular 3D prisms, quadrant formation, and sinistral circular peak with unique perspective from every angle. Alabaster Hued finish. As part of the... Read more
Utopia III by Amanda Shadforth.
A miscellany of precisely balanced regular and irregular rectangular 3D prisms, quadrant formation, and sinistral circular peak with unique perspective from every angle. Alabaster Hued finish.
As part of the Tigmi Art Series, this sculptural series by style arbiter Amanda Shadforth takes its cues from the Bauhaus movement and is a dichotomy of materials: chemical versus organic, feminine versus masculine.
Plaster on Polymer on an American Oak Base.
Size (including base): 45cm W x 58cm H x 38cm D.
Provided with Authenticity Certificate signed by the Artist. 

Amanda is an accomplished fine artist who specialises in paint and sculpture. Working in the medium of oil on canvas and mixed-media sculpture, she creates still-life studies of the commonplace told through her distinct lens. 
We use a number of specialist logistics partners to ensure the careful handling and safe delivery of our furniture, fragile and bulky items.
Please provide your postcode when you contact us for a shipping quote.
Shipping rates do not include import duty which will be county-specific. Please check your country's customs rates before purchasing. There are some destinations that we are unable to ship this item to.
Can't find what you're after?
We can source what you need.
Get in touch