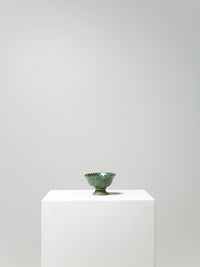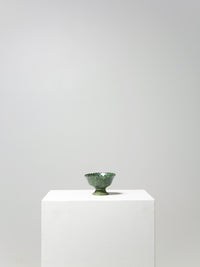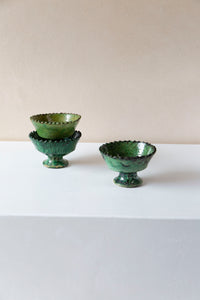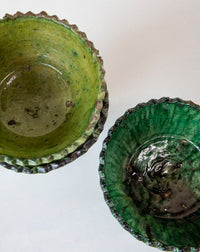 Tamegroute Henna Bowl Green - S
Tamegroute pottery is  unique to the town of Tamegroute, Morocco. Known for its distinct green and brown glaze, the kilns are built into the steep slopes of the countryside. The glaze is made from a... Read more
Tamegroute pottery is  unique to the town of Tamegroute, Morocco.
Known for its distinct green and brown glaze, the kilns are built into the steep slopes of the countryside. The glaze is made from a combination of magnesium and copper and is an ancient Berber recipe known to only seven families of potters. The result is the infinite variation of greens, yellows, blacks and browns.
As these are handmade - some imperfections are to be expected in each piece including small chips, irregularities in the glaze or hairline cracks that do not affect the functionality and only add to the character. The pieces are often stacked atop one another in the kiln so may have marks where two vessels have connected.
Each single Tamegroute piece is unique and as with handmade art, the beauty lies in their imperfection. 
Size approx: 10cm H x 17cm diameter
*Due to the uniqueness of every piece, please consider these images as an example of the colour and style. Should you prefer to specifically choose out of our available pieces, please make a note in the order and we will email you images of our current Tamegroute to choose from.
Orders will be shipped within 2-5 business days of placement of order through Australia Post standard shipping or a courier service, depending on item and delivery location.
Shipping rates are calculated for each carrier at checkout to determine the best rates in real-time.
Shipping rates do not include import duty which will be county-specific. Please check your country's customs rates before purchasing.
Can't find what you're after?
We can source what you need.
Get in touch