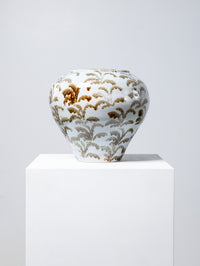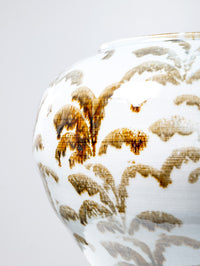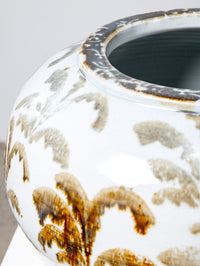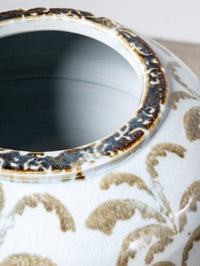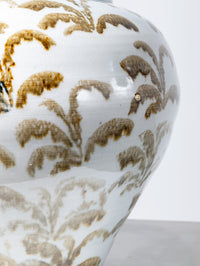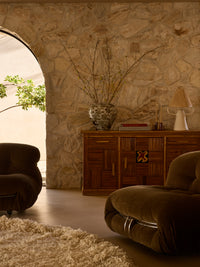 Palm Blossom Jar
by Middle Earth Pottery, Buderim QLD  Handcrafted by Master Potter, Michael Pugh, featuring an oxide decoration of the local Bangalow Palm. Made with a stoneware clay body with stoneware glaze and oxide, the ceramic has been sealed... Read more
by Middle Earth Pottery, Buderim QLD 
Handcrafted by Master Potter, Michael Pugh, featuring an oxide decoration of the local Bangalow Palm. Made with a stoneware clay body with stoneware glaze and oxide, the ceramic has been sealed so can be used in a variety of settings.
ONE ONLY.
About the artist: Michael established his first studio in the Buderim rainforest in 1971. His affinity and passion for clay and fire has seen his work evolve in technique and style. He has traversed the world in his quest for exploration and insight, and has exhibited in both Australia and abroad. He can be foind today in his beautiful studio located in the rolling hills of Buderim on the Sunshine Coast, Queensland. 
Materials: Stoneware Clay, Glaze, Oxide

Dimensions: H37cm x ø34cm
Dishwasher safe. Not suitable for use in microwave or oven.
Shipping rates are calculated for each carrier at checkout to determine the best rates in real-time.

Orders will be shipped within 2-5 business days of placement of order through Australia Post standard shipping or a courier service, depending on item and delivery location.

International shipping is calculated in Australian dollars and does not include import duty which will be country-specific and based on delivery address. Please check your country's customs rates before purchasing. We are unable to ship some items internationally and to some destinations. We ship to most countries.
Can't find what you're after?
We can source what you need.
Get in touch